Custom Made Orthotics with Digital CAD CAM
Custom foot orthotics are a very good, conservative option with a high success rate. Foot orthotics are custom-molded supports that control the way the foot functions, similar to the way glasses control the way the eyes function to allow the user to see better. Foot orthotics decrease stress to the painful area of the foot.
We can achieve exact detail using digital CAD CAM technology. We use computerized orthotic technology to fabricate quality orthotics and are able to achieve a quality fabricated orthotic using computerized CAD CAM technology.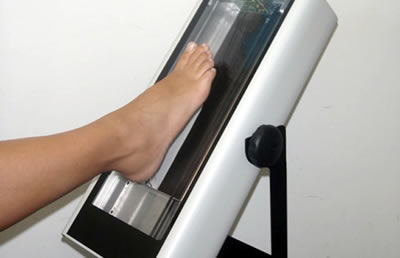 Orthotics and Biomechanics
Biomechanics is the science that deals with the study and treatment of problems caused by abnormal motion of the foot or other body part.
Orthotics are prescription devices worn within shoes and/or sandals. Orthotics control the function of the foot and lower extremity to eliminate abnormal function and stress that causes pain and deformity.
We offer a full range of orthotics to work with all types of shoes and activities:
Sports shoes
Casual shoes and sandals
Dress shoes and sandals




Conditions treated by orthotics include:

Heel pain: plantar fasciitis, heel spurs syndrome
Neuroma: pinched, swollen nerve in the ball of the foot
Capsulitis: pain beneath the metatarsal bones in the ball of the foot
Pain and arthritis of the great toe joint
Sesamoiditis: pain associated with the small bones beneath the ball of the foot near the base of the great toe
Tendonitis of the foot or ankle
Shin Splints
Runner's knee
Some gait-related hip and low back pains