Thomas J. Wensing, DPM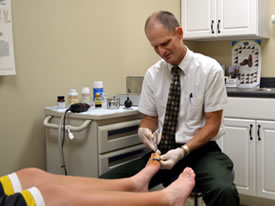 Why do so many active people trust me with their ankle and foot care?
"Because the care I offer does more than mask the symptoms. Today's advanced diagnostic methods and treatments enable me to provide you with relief that's faster, more effective, and longer-lasting than ever before."
An outstanding education forms the foundation of a successful practice.
"My greatest challenge is to apply all I've learned to giving every patient the best possible care."
Doctor of Podiatric Medicine: Scholl College of Podiatric Medicine, Chicago, Il
Residency: Podiatric Rotating, Baltimore VAMC
BS: Quincy University, Quincy, Il
"It's not the titles and honors that are important. It's the dedication to providing outstanding patient care that they represent."
Recipient of the Dow Corning Proficiency in Podiatric Medicine Award
Hospital affiliations ensure you the highest quality care
"Peer review during hospital surgical procedures gives you the benefit of more than one doctor watching over you."
Hospital Privileges:
Blessing Hospital
Surgery Center of Quincy
Dr. Thomas Wensing is a Quincy native and currently lives with his wife and three children in Quincy. He is a former collegiate golfer and now enjoys hitting the links with his family. He is a member of St. Peter's Catholic Church and his hobbies include home improvements and gardening.